---
AunTie - Premenstrual Syndrome👠️
---
Kexin (Kassy) Xu,

a service experience designer focusing on the existing social conflicts and women's physical and mental health.

Email: kassyxu1224@gmail.com
Ins: kassycozygirl
Yunxi Huang,
a service designer and industrial designer, who focuses on details and is committed to speaking out for minorities and solving real-life problems.
Email: hyxi97531@gmail.com
Ins:hyunxii531
This is a service experience design project based on the Chinese market, about helping Chinese women suffering from PMS symptoms to improve their situation and experience in life and society.
We designed a service system called AunTie, which contains an App and an offline station. We aim to help women and families suffering from PMS to get more support and real and effective help.
We hope to provide more strength and support for Chinese women through our design.
︎︎︎ visit project page
PMS (premenstrual syndrome) is the name for the symptoms women can experience in the weeks before their period. PMS involves negative behavioral, cognitive and physical symptoms from the time of ovulation to menstruation.
However, the concept of PMS is not popular in China today, although a huge number of Chinese women are suffering from physically and psychologically discomforts during menstruation, which affect their lives to a certain extent.
Through the rich research in comprehensive target users and specific scenarios, we have an in-depth analysis of the market and social status.
To promote the progress of the project, we planned an online workshop and invited 7 girls of different ages to participate in our activity "Girls sharing workshop".
Criticize the problems of the current situation, explore more possibilities, and imagine the future.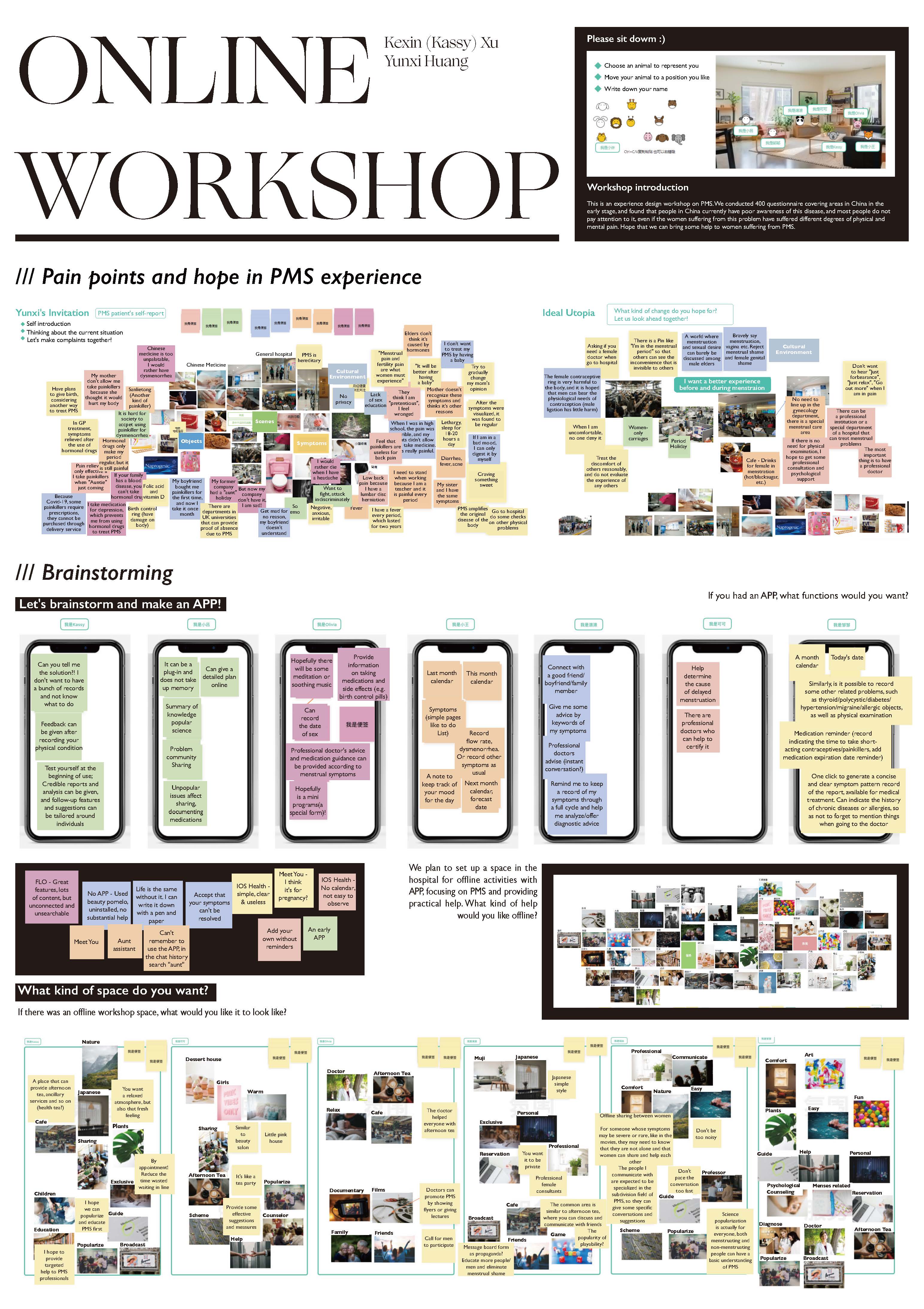 We hope to establish the service connection between the App and Auntie station, as well as the cooperation between the hospital and Auntie Station. Through a sustainable, long-term service to help women suffering from PMS get a better life experience.
We have also considered making Auntie service suitable for a variety of user groups, bringing a better experience to women and families of all ages in China.